Dr. Don Costlow
Dr. Costlow received his Bachelor of Science degree from Cornell University in 1985. He is a 1990 graduate of the Oklahoma State University College of Veterinary Medicine. During his studies in veterinary school, he was inducted into the Phi Zeta Organization for academic excellence.
From May 1991 to June 1997, Dr. Costlow was the Chief Veterinarian at an animal emergency and critical care facility outside of Cleveland, Ohio. While in Cleveland, he appeared regularly on FOX Television's "Good Day Cleveland", where he presented various topics on pet healthcare. He is currently a member of Newton Rotary (Past President 2008-2009; member since 1997) and:
Member Board of Directors of Sussex Community College, current Secretary
Member Board of Directors Sussex County Red Cross
Member Board of Directors Sussex County Economic Development Partnership- Former Chairman
Member Board of Directors Newton Memorial Hospital
Initiated Pet First Aid program with Red Cross
Initiated Pet Blood drive with Red Cross
Initiated Pets and People Weight Loss and Exercise Program with the Sussex County YMCA
Initiated "Pet Pictures with Santa" to raise money for BARKS animal shelter
Chair of the Twilight Golf Outing to benefit Bristol Glen 2009
Co-chair of the fundraising committee NMH
Rotary golf Outing Committee 2007-current
Chair SCCC Annual Ball 2007
He was President of the NWNJVMS in 2004 and an active member of AVMA and AAHA. Dr. Costlow took over as President of Newton Veterinary Hospital in July of 1997 and founded the Animal Emergency Hospital of NJ in 2002.

Dr. Stan Bladek
Dr. Bladek is a graduate of the University of Missouri College of Veterinary Medicine. He has been with Newton Veterinary Hospital since 1983. He is a member of the AVMA and the Northwest New Jersey Veterinary Society. He has had several case reports published in Veterinary Forum magazine. Dr. Bladek is the chairman of the Sussex County 4-H Foundation and is a long-time resident of Hampton Township.

Dr. Jennifer Wyman
Dr. Wyman has a BS in Biology and graduated from University of Tennessee College of Veterinary Medicine in May 2008 when she joined Newton Veterinary Hospital. Dr. Wyman was born in Sussex County, NJ, and has lived her entire life in New Jersey. She is a member of the AVMA (American Veterinary Medicine Association). She owns a bloodhound mix and an American quarter horse. Dr. Wyman enjoys being outdoors hiking with her dog, Emma, and riding her horse, Royal.

Dr. Betsy Chabora
Dr. Chabora is a native of New Jersey. She graduated magna cum laude from the University of Delaware with a Bachelor of Science in Agriculture. She received her DVM degree from The Ohio State University. Dr. Chabora practiced veterinary medicine in Oakland, NJ for the past 26 years. When not working, she enjoys spending time with her four-legged and feathered family.

Dr. Kim
Dr. Kim graduated Summa Cum Laude from the University of Massachusetts-Amherst honors college with a major in Veterinary Science and a minor in Biochemistry. She then graduated from Tufts Cummings School of Veterinary Medicine as a Phi Zeta Veterinary Honor Society member in 2021. She moved to New Jersey to be with her fiancé and their new Jindo/Spitz mix puppy named ChiChi. Her veterinary interests include surgery, dentistry, dermatology, and preventative medicine.
In her spare time, Dr. Kim enjoys spending time with her family, including her family dogs Indy and Lucas. She enjoys going on hikes with her fiancé and ChiChi, working out at the gym, hanging out with friends, going to EDM concerts, and painting.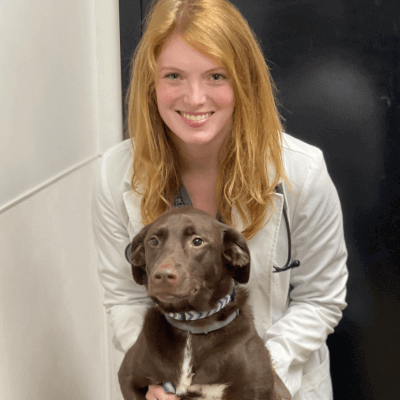 Dr. Emily Barron
Dr. Emily Barron graduated from the University of Bristol and is a Member of the Royal College of Veterinary Surgeons. After living in the UK for nearly a decade Dr. Barron has returned to NJ. She has a strong interest in surgery, preventative, and behavioral medicine.
In her spare time, she works with and raises guide dogs for the Seeing Eye. She can often be found working on DIY projects for friends and family. With birds, rabbits, and dogs at home, she is never far from critter companions.

Dr. Susan Chun
Bio coming soon!